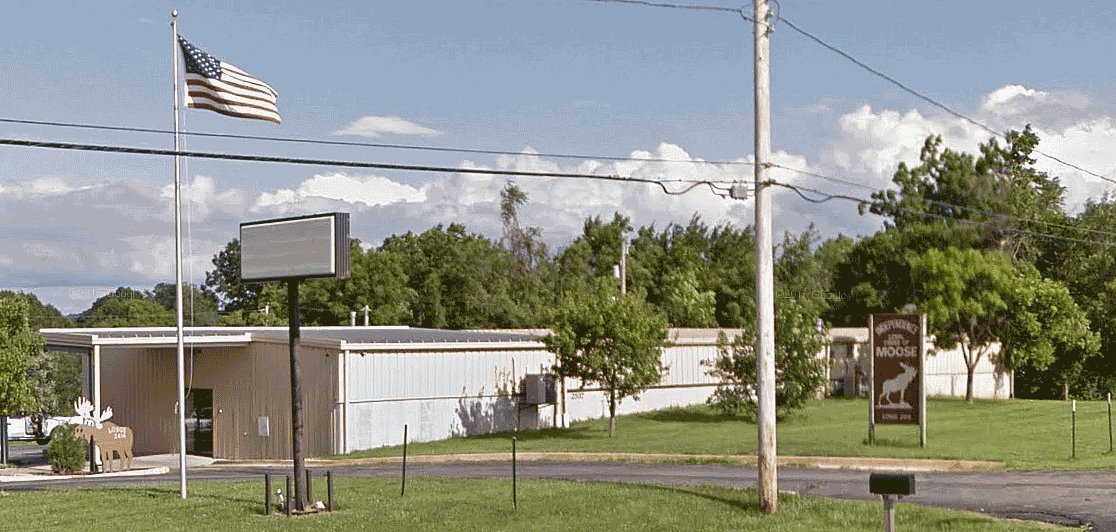 Latest news and articles from this months newsletter.
From the Administrator

It has been a few months since I have been able to put time aside just to reflect and write something for the newsletter. First let me start by saying Wow! I feel honored and am very appreciative of all the support and confidence the general membership has place in me as the new Lodge Administrator. I hope that I am worthy of the support and can maintain it as we brave these troubled waters of 2020. With that said, I want to be upfront, open, and honest with everyone, we need support. We need events. We need to return to the Lodge home and we need your derriere in the seats. There are a lot of plans on the table for upcoming events that include meals, bike runs, and games. All ideas are fundraisers for the WOTM, Moose Legion, LOOM, Moose Riders, and outside charities. Please consider attending, wear a mask, be diligent about sanitizing and kindly remind others to do the same. We have spaced our games out and all are running. Darts, bowling, golf, and pool are returning soon. If you are uncomfortable returning to the Lodge, there are still ways to show your support. Reach out to another member or officer to submit a donation or get into the raffles - you do not need to be present to win for most of them. Some of the meals that we will be selling will be served in to go containers and you can call your order in and pick it up under the car port all without every having to leave your car.

Finally I want to give a big thanks to those who have stepped up and helped with the Lodge during and after the shutdowns. There were many involved in doing Lodge repairs, upgrades, and deep cleaning. Daniel Wilkinson, Tim Morgan, Jeremy Tweedy, Jerry Knight your work did not go unnoticed and the Lodge looks amazing. Thank you to Jeff Crites from Certified Carpets for donating air ionizers during the first shutdown. Thank you to Jeff Braley "The Bug Man" for also donating air ionizers and continuing to bring them in on a regular basis. Thank you to Vickie Larson who has donated masks, wipes, and sanitizer and for not being afraid to use them on any of us. Most of all, thank you to Gretchen Dugan for keeping us all safe, for being a Moose, for being a friend, and for being you, we will all miss you.

Rick Eidson
Administrator - Independence Moose Lodge 2414
Financial Director - Moose Legion MoKan4
Prelate - KC Lodge 10 Sugar Creek
Moose Legion Assistant Secretary - Independence Lodge 2414

From the Senior Regent

I would like to announce that Vickie Larson has been selected as our co-worker of the month.

Vickie has been a big part of the Moose family for many years. She has been a great friend to us all and has really gone above and beyond during this pandemic to keep us all safe.

We all appreciate you, congratulations.

Speaking of the pandemic, the annual Halloween parade has been canceled as most large events have been. We will be hosting our annual Trunk or Treat October 24th 1pm-3pm. We will have safety measures in place to keep everyone safe and will follow all the rules set forth by the health department.

If you have any questions or want to participate in any events please reach out to myself or another WOTM officer. We are always looking for volunteers and new ideas.

Thank you and stay safe.

Crystal Wolfe
Senior Regent

Important Dates!

October 9th-11th - Moose Legion Celebration KCK Moose Lodge 1999.
October 24th 1pm-3pm - Trunk or Treat (subject to Jackson County)
October 24th 6pm - Lodge Halloween Party - Ghoulash Dinner, games.
November 7th 3pm - Lodge Veterans Day Celebration


Taco Kitchen in Back!

Starting October 15th - 1st and 3rd Thursday - 5pm-7pm

Moose Legion Quarterback Combine!

Football season is back and the Chiefs are stronger than ever! The Moose Legion has started a new fun and exciting game to play at each Chiefs game. The Moose Legion Quarter Back Combine will be played before the start of each game and during halftime. You toss a football into different holes for points. Each week the 1st place winner will get a liquor gift set and a Golden Ticket to hold on to until the Superbowl party. You can win more than once, but you will only get a single Golden Ticket. Full rules will be posted at each game.

Halloween Party!

We will be having our annual Halloween Party on Saturday October 24th at 6pm. Dress up and enjoy some fun, trivia and games. Ghoulash Dinner is just $5 a bowl!

Moose Legion Family Fun Day and Meeting!

On Saturday September 12th the Moose Legion hosted it's first Family Fun Day! It was a great time. Members brought their children up to the Lodge to play games, blow bubbles, eat, dance and have fun in a safe environment. Everyone had a great time and we were all reminded of why we are Moose.

Starting in November, Moose Legion Family Fun Day will be the 2nd Saturday of each month. It begins with the monthly Moose Legion Meeting at 11:30am. All Moose Legionnaires in good standing may attend the meeting. Immediately following the meeting there will be activities either at the Lodge or outside the Lodge, such as bowling, minigolf or trips to the area parks. That evening from 6pm-9pm, any Moose Legionnaire that attended the morning meeting will receive drink discounts at the Lodge Social Quarters.

We hope to see you all at the next Family Fun Day and remember "Do some good thing for someone each day" "Do some good thing for someone each day"

26th Annual Moose Golf Tournament

A total of 30 teams played at Royal Meadows for the annual golf event. Thank you to all the that helped! Plans are already in place for next years tournament.

Moose Riders

The Moose Riders have not been real active this year due to the pandemic. However, we are planning a few rides before the season is over. Please join our Facebook group to stay up to date on our events. If you want more information about the Moose Riders or joining the group, please see our President, John Felton or Vice President Shawn Wolfe. We would like to see our group grow and welcome you all with open arms.

Membership Retention

Membership Retention Week is November 1st-7th and it's coming up fast! But there is no need to wait! If you know of someone who has not paid their dues, please reach out to them. It is important that we all continue to support the Moose. The Children at Mooseheart and Seniors at Moosehaven are dependent on our support.

Mo-Kan-Show-Me All-State Golf Tournament

Painted Hills Golf Course
Tee Time 8am October 10th
2-Man Scramble
$75 Entry per golfer
For more information call Terry Mast 913-94

Raffles, Raffles, Raffles!

Moose Legion Samsung 43" Smart 4k UHD TV

Tickets are $5 each or 6 tickets for $20. Drawing will be Sunday November 22nd During the Chiefs Game.

WOTM Baskets

Tickets are $1 each or 6 for $5.00. Write your name and phone number on the ticket and drop in the container for the basket you wish to win. Winners will be announced on Friday, October 2nd.

Italian Dinner Basket!
Coffee Time Basket
COVID-19 Survival Basket
Sip and Enjoy - Wine Basket
Kids Fun Basket
---
Regular events at Moose Lodge 2414!
WOTM Taco Kitchen is the 1st and 3rd Thursday of each month 5pm-7pm.
Queen of Hearts is every Friday around 6:30pm.
Moose Races are every Friday around 6:45pm.
Birthdays for month of October
Barbara Hall - 10/01
Richard Zey - 10/01
Charles Cox - 10/01
Angela Flees - 10/02
John Quirk - 10/03
Kay Harris - 10/04
Patty Hemberger - 10/09
Sara Mayfield - 10/09
Bobby Dotson - 10/09
George Jones - 10/10
Sylvia Krei - 10/10
Jeannie Ownsbey - 10/11
Lisa Young - 10/13
Michael Chambers - 10/13
Michael Jennings - 10/14
Mike Gray - 10/16
Julie Lynch - 10/16
Donna Miller - 10/16
Kimberly Doak - 10/17
Glenda Harris - 10/18
Joe Hemberger - 10/18
Dean Brunkow - 10/19
Carl Robinson - 10/21
Linda Clemens - 10/23
Michele Krause - 10/23
Thomas Howard - 10/24
Renee Griffith - 10/24
Jerry Knight - 10/24
Ron Knisley - 10/24
Bruce Carter - 10/25
Simon Olvera - 10/27
Ginger Reddell - 10/27
Sue Stufflebean - 10/29
Frankie Liebi - 10/29
James Walden - 10/30
Anniversaries for month of October
Bobby Benedict - 1996
John Cichacki - 1996
Jeffrey Grubb - 1996
Neila Crist - 1998
Diane Sanders - 1998
Donna Schafer - 1998
Shirley Schumacher - 1998
Jo Slusarczyk - 1999
Nancy Peters - 2000
Patricia Collins - 2001
James Parsons - 2001
Mary Narramore - 2004
Tearance Murphy - 2004
Dale Higginbotham - 2006
John Tripp - 2007
John Bloom - 2010
Steven Newman - 2012
Doyle Dempsey - 2012
Glenna Burris - 2013
Melinda Barker - 2014
Ray Brown - 2014
Debi Moore - 2017
Pam Burnham - 2018
Brenda Kehler - 2018
Rick Kehler - 2018
George Jones - 2018
Sondra Vanoster - 2019
Renee Griffith - 2019
Logan Zeigler - 2019
James Coatney - 2019